Auctionata has announced the sale of fine Jewelry from its New York studio that will take place on Thursday, March 18 at 12 p.m. EST. With pieces dating from 1820 to present day, rare vintage styles are featured alongside contemporary work of iconic manufacturers such as Tiffany & Co., Bulgari, Lalaounis and Cartier.
"We saw so many beautiful pieces and revived style trends over the recent award season and during Fashion Week in Paris, Milan and New York…This sale will present popular styles and fashion pieces like the Cartier Love Bracelet and Baroque style earrings and bangle, in addition to culturally relevant items like the Lalaounis cuff and brooch in ram form, and jade items, as it is the Year of the Ram according to the Lunar calendar." says Katherine Palmiter, Head of Sale and Specialist, Jewelry.
Check out five of the top highlights below: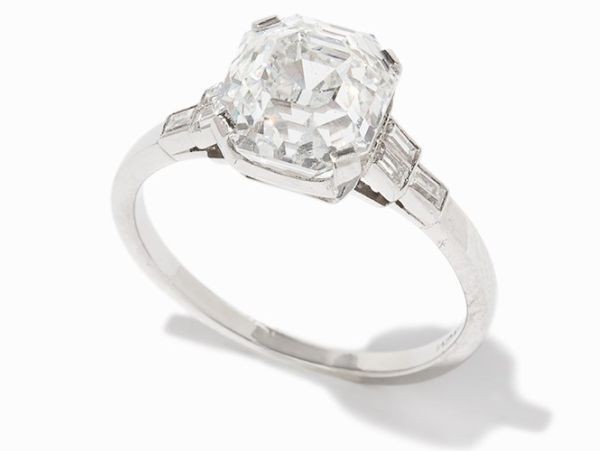 This dazzling platinum ring is centered with a 4.09 carat Asscher cut diamond, in a four-prong setting. Perfectly symmetrical, the classic diamond features wider corners so the eight sides can capture light from all angles to produce the pattern of repeated squares that is distinctive of this beautiful cut. Three rectangular side stones on each side, weighing approximately 0.18 carats in total, are tiered to form an elegant transition between the center stone to the platinum band.
The perfect touch for an elegant affair, these glamorous platinum earrings are each centered with a stunning square shaped, cut corner modified brilliant cut diamond of natural fancy light yellow color weighing 2.06 and 2.11 carats, respectively. The center stones are surrounded by forty eight yellow round brilliant cut diamonds, totaling an estimated weight of 1.16 carats, thoughtfully accentuated by eighteen karat yellow gold four prong settings in a frame running flush with the cut corner shape. The yellow diamonds are further bordered by seventy two colorless round brilliant cut diamonds highlighted by platinum four prong basket settings. These continue in a line on the front of the shepherds hooks with a safety catch for added security.

A refined, upscale take on classic solitaire studs, these impeccable platinum earrings showcase two cushion cut diamonds, with a combined weight of 4.21 carats, surrounded by micro halos studded with a total of fifty round brilliant diamonds in four prong set basket settings. Designed in the round, an additional thirty two round brilliant cut diamonds totaling an estimated weight of 0.16 carats are set in four lines behind the face of each stud to meet the fluted flower shaped butterfly backs in 14K white gold.
A sophisticated statement, this exquisite eighteen karat white gold necklace link together forty two oval, faceted briolette cut diamonds which alternate with forty two asymmetrical polished ruby beads. The glittering diamonds are of H/I color, VS clarity and approximate a total weight of 15.10 carats. The ruby beads of rich magenta color have been tumbled for a highly smooth finish and exhibit a natural shape for a lively spontaneous effect, with the versatility to be layered with other necklaces or worn alone for eye-catching effect.
This elegant and highly collectible necklace and earring suite in 14K yellow gold is composed of eight collet set elongated hexagonal jade plaques, and one ovoid jade pendant which have all been carved and pierced with various verdant and foliate motifs. Suspended between two lines of chains, the six hexagonal links of the necklace alternate with foliate scrolling enamel elements, incised with linear details on the leaves, evocative of Art Nouveau design in a style emblematic of gold and enamel jewelry from Newark in the early twentieth century. The necklace is finished with a tension set tongue in groove clasp which inserts into the first plaque after the pendant for a choker effect.